Why Consider Land Conservation?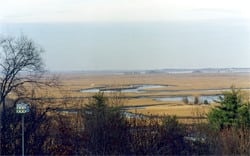 Essex County contains salt marshes, rolling hills, vibrant forests, flowing streams and rocky shores. We all treasure this open space as a critical component of our cultural heritage, our economic vitality and our quality of life. Left unprotected an open field on the North Shore is more likely to become a housing development or an office park, due to the rising real estate values in this region. If all of the open meadows in our area become developed with the trappings of man, then the character of this land will be forever changed. In our recent experience, once there is a house built on a parcel, that parcel is forever altered from its natural state. Thanks to the many conservation organizations that are working together in our area, we are blessed with natural open spaces, wetland corridors, protected farmlands & forests and miles of open trails.
Presently, 35% of Essex County is developed
Another 25% is protected
 What happens to the remaining 40% is up to all of us.
As a landowner, you will eventually have to make decisions regarding the future of your property. Even a decision to do nothing may have significant consequences for your land and for your financial goals. If you value the scenic, agricultural, wildlife habitat or other conservation values of your land, you will need to take steps to ensure that those conservation values are permanently protected. The following information segments will provide a brief overview of the work of the Essex County Greenbelt Association (Greenbelt ) and the conservation techniques that can be adapted to suit your unique circumstances as a landowner.