Boston's North Shore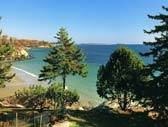 Boston's North Shore is more than just a shore. It encompasses Cape Ann, and a beautiful Atlantic shoreline comprised of sandy beaches, rocky wave-pounding seascapes, gently swaying marshes, off land islands and peaceful harbors and coves.
Boston's North Shore is a collection of old New England towns steeped in the history of this Nation. We have quaint town centers punctuated with handsome town halls and churches and lined with first and second period houses such those in Ipswich, Wenham, Topsfield and Boxford. We had the infamous witch trials of Salem, and we're the birthplace of Monopoly at Parker Bros. Salem is also the historic East Coast port of the China Trade during the 18th and 19th Centuries, where many of the wealthiest captains built their homes in the stately and unique Federal style. The Peabody-Essex Museum has one of the finest collections of Chinese art and seafaring artifacts anywhere on earth. We have the equestrian farms of Hamilton; once the home of the United States Equestrian team. Gloucester still maintains one of the nation's busiest commercial fishing fleets. In addition, there are the harbor towns of Beverly, birthplace of the United States Navy; or Manchester and Marblehead with their famous sailing harbors and yacht clubs, and the picture postcard New England town of Wenham, with its town square, tea house (wear your white gloves), Congregational Church, a delightful museum, and picket fences.
With the winding seacoast from Beverly through Manchester to Gloucester; there are beaches and rocky shores to delight any eye. In the towns of Essex, Ipswich, Newbury, Rowley, and Gloucester there are vast salt marshes. Newburyport is where the fastest Clipper Ships were built. In Essex, famous for the fried clams and fishing schooners, there are now more than 75 antique shops: come find a special old treasure.
There are the former "Gold Coast" hamlets of Beverly Farms, Prides Crossing and Manchester where the titans of industry came to summer at the turn of the last century. They left a lasting legacy in their gracious summer houses, gardens and country clubs. In Ipswich the famous Crane Estate is now a protected barrier beach which extends for miles. There is the Great House and estate built by Chicago's Crane family which is now protected as a conservation reservation.
In Rockport there is the artists' colony which has spawned a major summer community. In Annisquam and the beaches of the Wingaersheek, Eastern Point and the Bass Rocks sections of Gloucester, hundreds of families still come to enjoy their summers away from the hurly-burly of urban life.
Like so many other regions in Massachusetts, the North Shore has its share of great schools. From highly sought-after K-12 public regionals, to independent, specialized, and renown col