The Conservation Process
What are the first steps in planning for the conservation of my land?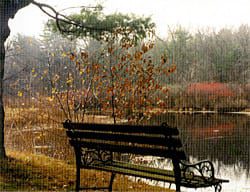 The first step when considering the future of your land is to create a conservation plan that addresses both your conservation and financial goals. This planning process can be very informal or quite complex, depending on the specific characteristics of the ownership and parcel of land.
Assess Resources and Conservation Goals
The evolution of the plan will begin with an assessment of the conservation resources of the property, and a parallel assessment of your conservation goals. For example, your land may contain important agricultural resources, and your primary goal may be to ensure that the land stays in agricultural use. Alternatively, the land may contain important wildlife habitat, and you may have a strong desire to see the habitat protected and actively used as an educational resource. Each desired outcome will have implications for the conservation techniques that are considered.
Assess Future Plans for the Property
The next element of the plan involves your future plans for the property. Do you intend to keep it in the family? Will the parcel likely be sold outside of the family? Might part of the property be retained and part sold? Again, your plans for future tenure will have a significant bearing on the conservation plan that is right for you.
Assess Financial Goals and Objectives
Next, your financial goals and objectives are given careful consideration. No meaningful conservation plan can exist in isolation, and having Greenbelt work with you to accomplish your financial goals is a critical component of the process. Many conservation techniques have significant tax advantages associated with them, and can be an important component of the financial benefits of the conservation plan. When land must be sold to generate financial returns, it is often possible through careful planning to conserve critical conservation resources and maintain significant economic value.

With your conservation and financial goals and objectives defined, the final result of the process will be a recommendations to the best conservation technique to accomplish your goals.
What are the options for conserving my land?
Land Conservation Options for Essex County Landowners. Once the conservation plan is completed, a variety of conservation tools can be brought to bear. The two major variables which determine the specific strategy are whether or not the ownership of the land will be transferred as part of the conservation plan, and whether or not you will be receiving cash compensation for all or a portion of the interest in the land.
If the ownership (fee interest) in the land is to be transferred, it can be donated outright, sold at less than fair market value (a bargain sale), or purchased at fair market value. If the conservation plan calls for ownership to be retained by the landowner, a conservation restriction (easement ) can similarly be donated, sold at a bargain sale, or sold at full fair market value. It should be noted that many land conservation projects use more than one conservation tool to achieve the desired outcome. For example, a landowner may elect to donate an isolated woodlot outright, but place a perpetual conservation restriction on land surrounding a residence.
1. Outright Gift of Land
The simplest land conservation tool, an outright gift of land maximizes the value of the available tax deduction and is quite straightforward to implement. From a landowner ?s perspective, an outright gift can be the most appropriate strategy where continued private ownership of the land is not a goal, and where the conservation resources are such that Greenbelt is willing to take on a long-term land stewardship responsibility. Under this option, you would have no further management responsibility or property tax liability.
2. Bargain Sale of Land
In a "bargain sale," you would agree to sell your property to Greenbelt at a price that is less than the full fair market value. Under this scenario, the landowner receives the benefit from the transaction in two forms: tan benefits for the portion of the land value that is being donated, and cash for the increment of land value that is being purchased. For Greenbelt, the conservation value of the land must be such that it is willing and able to invest its limited capital in the project or secure additional sources of funding.
3. Land Sale at Fair Market Value
Occasionally, Greenbelt may purchase property at its full fair market value. There are no tax advantages for the landowner, and the property must contain significant conservation features to justify paying full value. As a practical matter, when land which has significant development potential is being purchased at fair market value, it is almost always necessary to form a partnership of nonprofits and public agencies to complete such a project.
4. Conservation Restriction
In Massachusetts, state law provides for the donation or purchase of perpetual conservation restrictions, which are referred to in other states as conservation easements. With a conservation restriction (CR), the development rights associated with a specific parcel of land are granted to the land trust, and simultaneously extinguished. The land remains in private ownership and can be sold or passed on to a family member. The landowner retains a set of  reserved rights which represent those uses and activities that can continue to be carried out on the property. Gifts of CRs are tax deductible, and the size of the tax deduction is determined by the value of the development rights that are being foregone. Public access is not required under a CR, although there are instances where access is an important element of the conservation value, and Greenbelt may work with you to incorporate public access into the CR. Greenbelt takes on the responsibility for monitoring and enforcing the CR in perpetuity.
5. Limited Development
One technique that is being used with increasing regularity is ?limited development ?, where a small portion of the property is developed in a manner and in a location which is designed to minimize the loss of conservation resources. This technique can generate significant financial returns for you as a landowner, while retaining value that can be donated in fee or via a conservation restriction. Limited development is not an appropriate tool in all instances, and limited development projects need to be carefully structured to ensure that both good conservation and good financial outcomes are achieved.